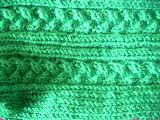 I knit a sock. A beautiful sock. A sock which according to my completely unbiased mother has the prettiest cables on it that she has ever seen.
I grafted the toe.
I forgot that due to the way I knit socks on two circulars that prior to grafting I needed to flip the sock inside out.
Now, the graft on the right side of the beautiful sock has purl stitches and the wrong side is knit…and it is too late to fix it…I wove and trimmed the ends before I noticed.
Thinking positively: I will be able to tell the right sock from the left…unless for the sake of consistency I purposefully misgraft the second sock as well!